Our program, called FCRHC Heal and Recovery Program, offers a multidisciplinary team consisting of a Physician, Licensed Professional Counselor,Nurse Practitioner, Licensed Vocational Nurse, and Medical Aids. We have daytime outpatient program hours, and our clinic provides the optimal outpatient program for children, adults, and busy professionals ready to start their path to recovery. We are the only treatment center within a 65-mile radius that offers the Medication-Assisted Treatment program.The Franklin County Rural Health Clinic (FCRHC) Heal and Recovery Program offers Counseling and Prevention,Treatment and Recovery for Opioid and Substance Use Disorder for Franklin, Titus Morris Counties and surrounding areas.
For Help: Call 1-903-537-8222
Services available Monday - Friday 9 am to 5 pm
Emergency Services on Saturday and Sundays

Franklin County Rural Health Clinic
506 Texas Highway 37
Mount Vernon, Texas 75457

www.healandrecovery.com
---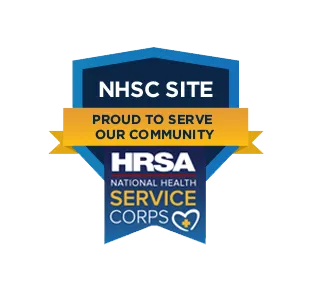 The Rural Communities Opioid Response Program, RCORP-Medication-Assisted Treatment Expansion initiative is aimed for high-risk rural communities. Under this initiative, the Franklin County Rural Health Clinic (FCRHC) offers convenient opioid and substance use options close to home and work.
Our program, called FCRHC Heal and Recovery Program, offers expert counselors, daytime outpatient program hours, our clinic provides the optimal outpatient program for children, adults, and busy professionals ready to start their path to recovery. We are the only treatment center within a 65-mile radius that offers the Medication-Assisted Treatment program.

We have an affiliation agreement with Glen Oaks Hospital for patients who require treatment in an inpatient or specialty facility. We also have an affiliation agreement with Titus Regional Medical Center for inpatient services. We take all patients regardless of their inability to pay for services. Also, if transportation is a prohibiting factor from coming to the program, give us a call to arrange transportation to and from the clinic.
In addition to our affiliation agreementswith Titus Regional Medical Center and Glenoaks Hospital, we use a vast amount of recovery-related networks including having a partnership with the East Texas Council on Alcoholism and Drug Abuse (ETCADA) for classes and support services.
All outpatient services at our clinic combine evidence-based therapeutic practices along with the latest scientific knowledge and research about addiction—always leading with the respect, dignity and individualized attention that have set our care apart.
We take a holistic and personalized approach in developing each patient's rehabilitation plan by providing:
Tailored outpatient substance use treatment planning to fit your specific situation, challenges and needs
Comprehensive care for your mind, body and spirit
Integrated mental health care to address co-occurring conditions such as anxiety or depression
Discrete and confidential processing of patient's care.
By working with you to understand your whole picture—your physical and mental health, family history, the types of drugs you are using, and many other influences and variables—our addiction experts are able to develop the best possible outpatient treatment plan to help you get well and stay well.

If you or a loved one is struggling with substance use, contact us or call (903) 537-8222 to learn more about the Heal and Recovery programs available at our outpatient treatment center.
Outpatient Treatment Service at Franklin County Rural Health Clinic Heal and Recovery Program
FCRHC is a force of healing and hope for individuals, families and communities affected by addiction opioid and substance use. FCRHC collaborates with an expansive network throughout health care.

Outpatient Opioid and Substance Use Disorder programs at our Franklin treatment center operate under the same evidence-based principles and practices.
We align time-tested Twelve Step recovery wisdom with the latest applications of neuroscience, mindfulness and other research-based therapeutic approaches. This means your comprehensive outpatient treatment sessions at our clinic will involve:
Mental health, social, and substance use (opioid, heroin, alcohol and other drugs) assessments to ensure an accurate diagnosis and inform treatment planning
An individualized addiction and mental health rehab plan to specifically address your condition and circumstances
Continuing care recommendations to support and reinforce your development of healthy routines and behaviors post-treatment
Our outpatient treatment program goals and expectations are designed to ensure that you have the best opportunity to learn, change and heal—with the ultimate goal of experiencing lasting freedom from drug addiction, alcoholism, and other addictions.

In developing your outpatient addiction treatment plan—and with your permission—our clinicians will also welcome the opportunity to collaborate with other professionals you may be working with in order to ensure continuity of care.

Outpatient addiction treatment at our clinic in Mount Vernon, Texas is offered weekdays with convenient morning and afternoon sessions available, Monday through Friday, 9 am to 5 pm.
Extended Outpatient Treatment
As you progress through outpatient opioid and/or substance use disorder rehab and begin implementing newly gained recovery principles and practices into your daily life, you will attend rehab sessions less frequently while transitioning into our extended outpatient level of care. Extended care is designed to give you more opportunities to solidify your abstinence from substance use disorder by building healthy new routines, developing your recovery support network, identifying relapse triggers and practicing relapse prevention skills.
In counselor-facilitated extended care group sessions, you will explore and discover how to restore your sense of trust, community, hope, and—most of all—belief in yourself. You will gradually develop independence from treatment programming as you appreciate the importance of prioritizing your recovery on a daily basis.

Recovery has many pathways. The pathway we recommend for you depends on your experience.
One of the most important steps in Recovery is preparing a Treatment Plan which includes introducing you to a Wellness or Support Group. The plan involves pairing you with the appropriate Peer Specialist. A Peer Specialist is a person in recovery that has significant life altering experiences – called "lived experiences." These individuals support individuals with struggles pertaining to mental health, psychological trauma or substance use.
Family Support
Addiction affects everyone in the family. And every family member needs help in their own right to understand the disease of addiction and work through the chaos and pain it causes. Once family members begin to understand the disease of addiction, they can embark on their own healing process.
Beginning February 2020, we will offer free, weekly workshops for families held every Thursday from 5:45–7 p.m., the workshops are open to the public and you are welcome to attend as often as you would like. Registration is not required.
These workshops provide a safe, nonjudgmental place for families faced with addiction to:

Learn about the disease nature of addiction
Understand the importance of taking responsibility for their own happiness and well-being
Identify ways to open the lines of communication and set healthy boundaries.
We realize that life can seem overwhelming during recovery. But you have made the right decision. Congratulations! You will soon be on your way to wellness. We will help guide you through the process, the resources, and obtaining the things you need to help restore your peace of mind.

Call us: (903) 537-8222 or (903) 305-2277
Heal and Recovery Management
Addiction is a chronic disease that has no cure, but there are effective solutions. Most people who go to treatment programs not only stop using drugs, they also improve their occupational, social and psychological functioning.
Much like learning to manage other chronic conditions such as diabetes or heart disease, recovery from addiction involves learning to live differently—replacing what had been a drug using lifestyle with healthy new routines, activities and interests. Scientific research identifies ongoing involvement in recovery-related activities as the best predictor of long-term sobriety. Active engagement is of utmost importance during the first 18 months of recovery when risk of relapse is most intense.
Participating in a Twelve Step or other mutual-help program, staying connected with your recovery community, and pursuing new recreational and creative interests are all important ways to sustain and strengthen your sobriety.
The Franklin County Rural Health Clinic (FCRHC) Heal and Recovery Program offers a wide range of in-person, online and mobile recovery support resources and services to help you thrive in recovery over the long haul. These support options include web/phone-based recovery coaching, monitoring and accountability services, family education and guidance, Twelve Step recovery enrichment retreats and workshops, and many more helpful resources.
Don't wait. Call today to learn more about outpatient options and insurance coverage for addiction treatment at our Clinic.